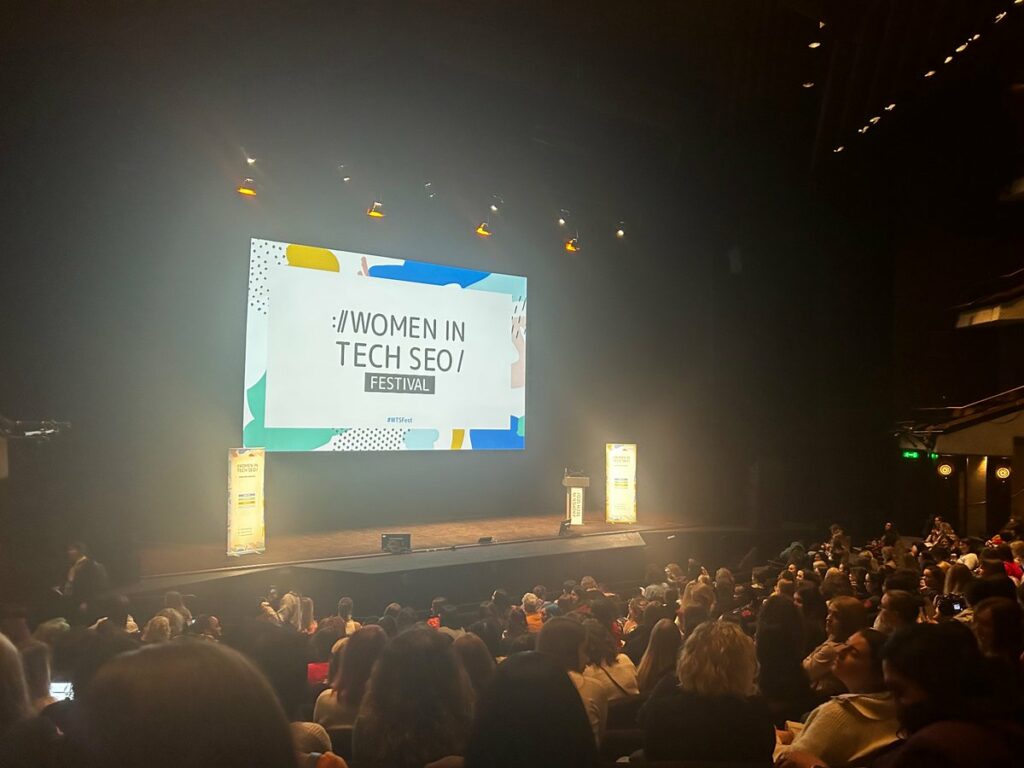 What a fantastic day! The Women in Tech SEO community is unparalleled in its openness and value (thanks to Areej), and the Women In Tech SEO Festival 2023 did not disappoint. Flagging after four events in one week, these wonderful speakers still got me all riled up and inspired. Too much to share from all the talented talks, but here is my small drop in the SEO ocean with some recaps and tweeted moments from the talks!
Information Architecture Audit for SEO Success – Yagmur Simsek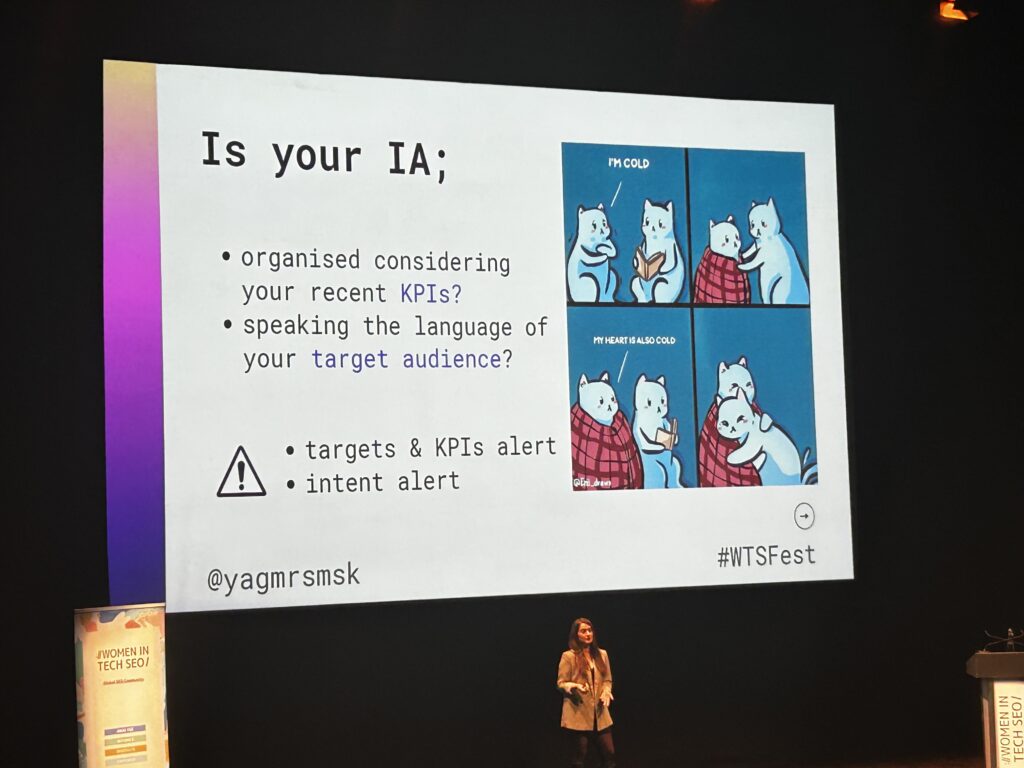 Great insights from Yagmur Simsek (@yagmrsmsk) on why information architecture matters for SEO and users.
Great reminder to integrate your IA with current priorities and KPIs (slide pictured above). Such an important point, and not one I would have necessarily thought of. Loved the idea of editing your menus for the seasons and including guides in your ecommerce menu. 
Do your site structure and internal links match current business goals?
Have you changed your site architecture in tune with the seasonality of your business?
Do you have a strategy to revisit your IA on a regular basis?
Creating and Automating Content in a Meaningful Way: Syphaïwong Bay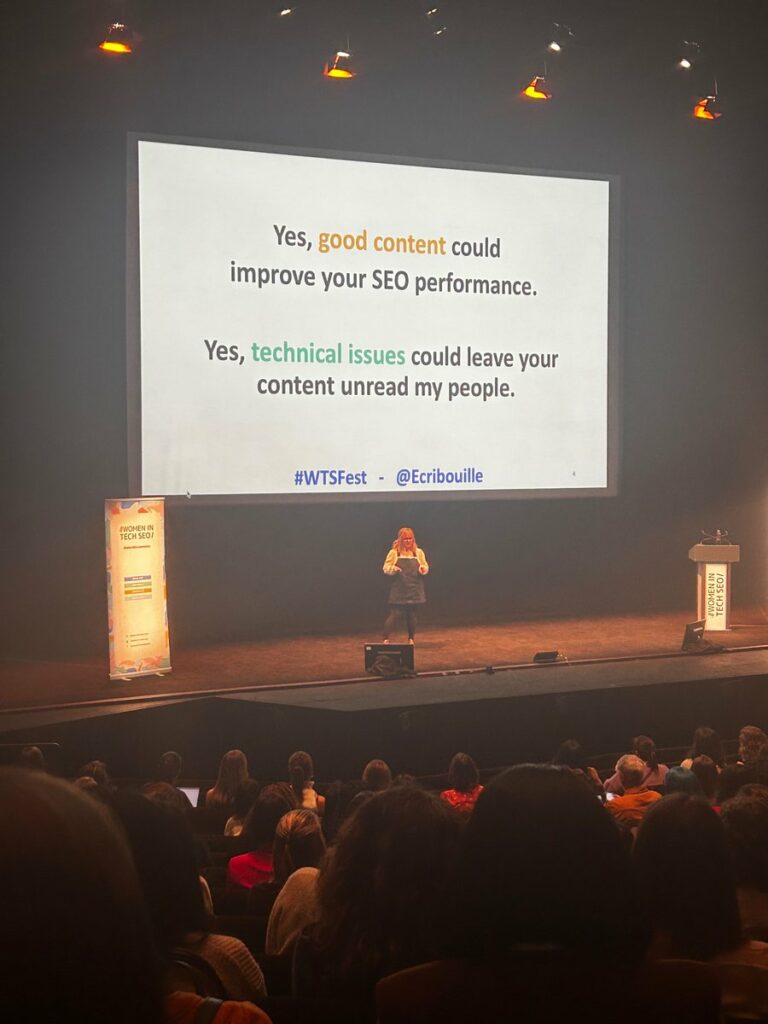 Fantastic talk, really learned a lot, and also laughed a lot too! Great reminder from @Ecribouille that content and tech meet in SEO writing (pictured above).
I love the sense that they really exist in a symbiotic relationship, that they need each other. "Unless you are both a good expert and a good writer, you'll be boring". 
I loved the idea that you can also "go against the tool": there is a real subversive power on in NOT doing what a tool tells you should do with your content.
Also, "is ChatGPT just your drunk friend going on a bit?"
Love this metaphor! One clever use for Chat? Avoid blank page syndrome!
Plus, will have to check out this tool that was recommended: https://yourtext.guru/en.
J'ai retrouvé mon clavier et j'ai posé quelques mots sur le blog d'@Assonance_net. Je reviens (en français) sur ma conférence au dernier #WTSFest : Créer et automatiser du contenu de façon constructive.https://t.co/gtzN5Wjd6N

— Syphaïwong Bay (@Ecribouille) March 8, 2023
The Six Keywords to Prioritise when Building a Topic Cluster: Chima Mmeje
Chima's (@chimammeje) was a fantastic and engaging talk on something we all do a lot, but could always do better with: keyword research and topic clusters.
Some top tips:
Download – free, template etc – put the resource at the centre of the page metadata

Think carefully about brand competition- be a third party recommendation
Create authority pieces – take a keyword and make it your own
Sales enablement content deserves a special shout out – don't neglect it!
Some really insightful reminders of what your money pages in SaaS really are:
Dropping some knowledge bombs on #SaaS money pages right now @chimammeje #WTSFest pic.twitter.com/b45RiDfQGd

— Kayleigh Töyrä (@KayleighToyra) March 3, 2023
And great example from PandaDocs on how to nail competitor comparison:
This is how to do competitor pages with style

– Compare the competition
– Sell your solution with value @chimammeje #WTSFest pic.twitter.com/ClBUtXVfK8

— Kayleigh Töyrä (@KayleighToyra) March 3, 2023
Going down the image SEO rabbit-hole: Myriam Jessier
Image SEO: something I do not know enough about. That is why Myriam's talk was so great, really going into detail on how you can create better image environments for SEO, but also being realistic about what can be achieved.
Don't be discouraged by not knowing everything

Understand Google Cloud Vision priorities to see how do your images stack up
CDNs are important
Alt vs title – alt is ranking, title extra
So insightful to see the priority sequence of Google Cloud Vision when it comes to understanding images @myriamjessier

How do your images stack up against this? How could they be interpreted?#WTSFest pic.twitter.com/vBCQ0Tce7D

— Kayleigh Töyrä (@KayleighToyra) March 3, 2023
Something to keep in mind:
Image width & height back in vogue due to core web vitals as forgetting to include image dimensions causes layout shifts.
Fantastic reminder from @myriamjessier why images matter.

100% agree #WTSFest pic.twitter.com/wOV6xl7bGP

— Kayleigh Töyrä (@KayleighToyra) March 3, 2023
Having trouble convincing the higher ups on image SEO?
A performance budget is a useful framework to help you sell image optimisation in
Don't wait for the audit! Make it an ongoing practice
Getting executive buy-in throughout your career: Bethan Vincent
Bethan was sharing research on attitudes on marketing from the C-suite: such an important conversation to have!
Find the internal customer – get inside their challenge
Align marketing with sales – spend time with product and engineering
Understand different stakeholder groups
When talking higher up, the emphasis is on summary
Don't send a dashboard without a commentary
From Bethan's research, it seems like marketing scores highly on communication and strategic thinking, but it is often not seen as effective though?
Bethan's hypothesis: is there an execution gap causing the effectiveness gap? (I would 100% agree).
This quadrant will also help you better pitch SEO ideas:
Stakeholder group quadrant from @BethanVincent to help you pitch your ideas and shape your approach.

A must have in the corporate world.#WTSFest #SEO pic.twitter.com/KnfZwf8J5q

— Kayleigh Töyrä (@KayleighToyra) March 3, 2023
And here is why your brilliant ideas get shot down:
And here's why leaders may pass on your (brilliant) ideas @BethanVincent #WTSFest pic.twitter.com/gj3gLC9A1X

— Kayleigh Töyrä (@KayleighToyra) March 3, 2023
Top tips from Bethan to help convince the C-suite:
Don't send a dashboard without a commentary
Interpret the data and annotate it
Come with actions
Neuroscience of Search: Giulia Panozzo
This talk was full of insights on how neuroscience can help SEOs better structure their strategies. Honestly, just so much value here!
From all the different biases (did not even know there were that many) to understanding users and different models that underpin thinking, this talk is definitely one to revisit when it comes to taking your SEO strategy to the next level. Follow Giulia on Twitter here.
Great reasoning for using keywords and stand-out terms:
What happens when we are bombarded with info?

Selective attention is how we cope with this, tuning into relevant and important stimuli that trigger attention e.g names, departments, keywords, even emojis can draw the @SequinsNsearch #WTSFest pic.twitter.com/0DkpoIboFD

— Kayleigh Töyrä (@KayleighToyra) March 3, 2023
Another top tip from @SequinsNsearch: you can also attract attention through negative mismatch.
As SEOs, we're not afraid to disrupt when it comes to attracting attention, so this is a useful angle for competitive niches.
Confirmation bias comes into play a lot in the SERPs; if you don't rank and you're expected to, the potential client will go elsewhere *and* lose some confidence in your brand @SequinsNsearch #WTSFest @techseowomen pic.twitter.com/bTbpfAgcnF

— Nat (@__nca) March 3, 2023
And with the new EAT plus E (experience) , social proof is going to have even more of an impact.
Natural Language Processing for SEOs: Josephine Haagen
This talk was full of insights, and it was great to see NLP broken down and taken to this degree.
I especially like Josephine's ability to demystify NLP, reminding us all that it is just a tool, not a strategy.
It's more about understanding what gets picked out from your text using NLP?
This is a model of how a word or a data input in NLP is made into a token and how this is then analysed – looking at salience, relationships etc @jcbhaagen #WTSFest #NLP pic.twitter.com/cGe6JJPxzd

— Kayleigh Töyrä (@KayleighToyra) March 3, 2023
What gets picked out from your text using #NLP?

An example of why putting keywords at the beginning matters.

And, capitalisation matters.

Prioritise relevance & experiment with paragraphs.

And don't write for machines, but understand how they work #WTSFest @jcbhaagen pic.twitter.com/NLnneCxC8x

— Kayleigh Töyrä (@KayleighToyra) March 3, 2023
Conclusions:
Prioritise relevance & experiment with paragraphs.
And don't write for machines, but understand how they work
Data Storytelling: Lazarina Stoy
Lazarina's talk on the importance of narrative and relationship building was 100% up my street.
Stories help people connect, understand, and engage.
Tie your story to the current goals.
Love love this explanation of what a good narrative in data storytelling looks like

Keyword here for me is Alignment @lazarinastoy #WTSFest pic.twitter.com/aXi7kIhsyr

— Kayleigh Töyrä (@KayleighToyra) March 3, 2023
Levelling up your SEO Career: Helen Pollitt
Very important message from Helen about the importance of taking control of your own career:
Lovely to hear from @HelenPollitt1 on how to answer the question "where do you want to be in five years time" – and not for interviewers, but for yourself #WTSFest pic.twitter.com/ArJs28FRev

— Kayleigh Töyrä (@KayleighToyra) March 3, 2023
Things to consider on your SEO career journey:
What level of responsibility do you feel comfortable with?
Do you want to manage people?
Is there a vertical you want to specialise in?
What team structure works for you? (Freelance isn't for everyone)
What motivates you?
What does success look like for you?
Also some fantastic tips to help level up your career:
Keep a record of results

Project outcomes – note them
Keep client and colleague feedback.
Standing in Your Confidence: Leyla Okhai
The conference ended with a bang with this engaging and empowering talk from Leyla @diversemindsuk.
Thank you for the inspiration, Leyla! Your talk made me realise that my plurality is my strength and that my journey looks meandering because that's who I am and that's what I do.
Genuinely helped my confidence in where I am in my journey.
What does confidence mean for you? What does it look like for you?

In Finnish confidence is often translated as "itseluottamus" – "self-trust"

I love that @diversemindsuk asked us to think about this in our other languages#WTSFest pic.twitter.com/nEfQm6ao9Z

— Kayleigh Töyrä (@KayleighToyra) March 3, 2023

Why are barriers being put in your way?
Have an educated guess as to why, and implement a strategy to circumvent them.
Remember, removing barriers can look different for us all.
"Imposter syndrome started out as imposter phenomenon."
An interesting insight and nuance from Leyla, showing how it wasn't necessarily pathologised in the beginning.
Top tips from @diversemindsuk to help us be more confident in our careers & lives #WTSFest pic.twitter.com/6ZOcsHPtui

— Kayleigh Töyrä (@KayleighToyra) March 3, 2023
This made me stop:
You're the CEO of your own life. Who is on your board?
Great advice from Leyla:
Focus on micro goals
Tenacity is needed
Comparison is the thief of joy.
After all that knowledge-soaking, I was ready to slip into the Barbican's beautiful garden room and sip on some wine, feeling grateful for all the knowledge that was shared. The event, the venue, the speakers, the sponsors, the organisers, MC Hannah Smith, Areej: thank you!