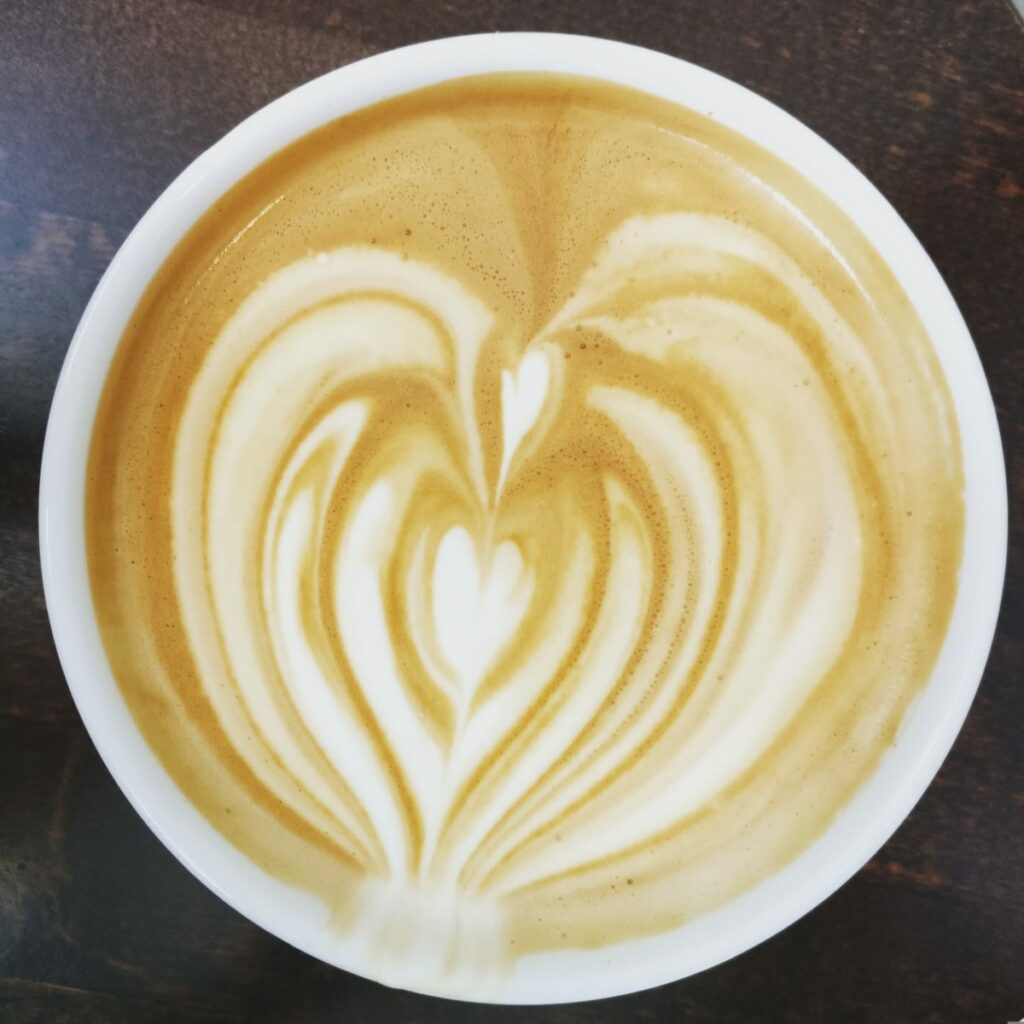 Finns love spending time together over coffee
"Cold coffee makes you beautiful"
(old Finnish proverb)
This lovely latte comes from
Kahvi Charlotta
on Runeberginkatu. (Runeberg was a Finnish 19th century poet and Runeberginkatu means "Runeberg's street". It's one of the many streets in Helsinki named after famous Finns). Charlotta is a cute little café; a nice buzzy atmosphere and great coffee kept me there for a good hour or two. The Finns love their coffee. Like really LOVE their coffee. Having coffee with people, whether that's in a café or at home, is a Finnish ritual of togetherness. It doesn't even matter what you say (if anything) — you can just sit there with a steaming cup of coffee and simply be.
Helsinki is eccentric and creative
Any blank surface can become a canvas for a city's stories.
Helsinki is full of signs of life and its streets are littered with creative messages and artwork. This is a brilliant close-up of a sticker I found walking around during
Taiteiden Yö
. Taiteiden Yö means "Night of the Arts" and is an annual celebration of art in the capital. Pop-up art stalls and art exhibitions go on for the whole night.
Finns love their cities green
"Forests are the Finns' church" (Finnish saying)
Finland is very green, and even its cities are filled with trees and grass. It makes for a very peaceful atmosphere.  In a country filled with forest, it couldn't be any other way. Esplanadin puisto (Esplanade Park) is Helsinki's most iconic park and a popular meeting place. It's always full of people taking photos or enjoying a coffee or ice cream out of old wooden kiosks. This funny tree struck me as I walked through the park.
Finnish design is bold
This snapshot is taken on Aleksanterinkatu (Alexander Street), which is Helsinki's main (posh) shopping street. In this street advert you can see some of the Finnish design aesthetic which has made the country famous. It's hard to put it all in to words, but Finnish design is usually geometric, bold, and an exciting mixture of earthy and vibrant colours. It can also be deceptively simple, favouring clean lines and natural textures. Finnish design as exemplified by
Marimekko
and
Iittala
has put Finland on the map.
Suomenlinna in summer is a magical place
This is a poster for Kesäyon uni which is a Finnish interpretation of Shakespeare's
Midsummer Night's Dream
that I saw at
Suomenlinna
. Suomenlinna is a world UNESCO heritage site and an old sea fortress that sits on an island in the Helsinki archipelago. Spending time at Suomenlinna, whether that's at the theatre, in the museums or just walking around the island, is a Finnish summer tradition.
This was taken later at the Suomelinna ferry harbour as we all waited to cram on to the next ferry to mainland Helsinki. Finnish summer nights are cool, and by the end of August you can feel the approach of the cold and dark winter.
Finns love their gin long drink "lonkero"
A Finnish drink speciality you'll want to try is a gin long drink called "lonkero". Originally developed for the Helsinki Olympics in 1952, it's now become a national favourite and is often one of the first drinks Finns try as teenagers. This one is a cranberry and rosemary long drink with a more 'grown up' flavour.
Helsinki architecture is fascinating & unique
In Helsinki East meets West, and the city's architecture has a very unique feel to it. Helsinki has loads of old stone buildings with relief carvings and features. It's great to look up and suddenly see wolves, bears and pine needles etched into stone. Helsinki is also full buildings that epitomise modernity; many design enthusiasts come to the city to marvel at its modern architecture made of sustainable building materials.
Helsinki is great for market shopping
These two pictures are from Senaatintori which is a shopping and market district on the square that opens up in front of Helsinki Cathedral. Finland is filled with small shops that sell artisan pieces and handmade crafts. Shopping in Senaatintori is relaxed and laid-back; it's one of the main tourist hotspots of the city.