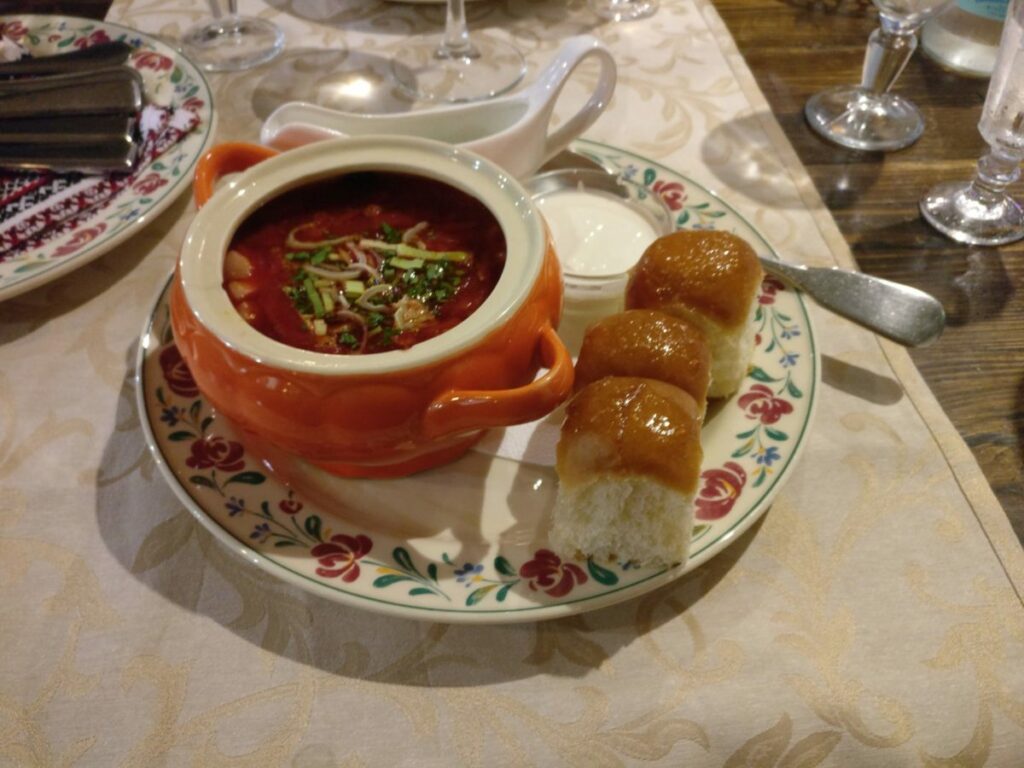 Traditional Russian food
Russian food is famous around the world, but Russian cuisine actually includes a wide range dishes beyond the ones we recognise like
borscht
and
stroganoff,
with a lot of culinary influences coming from places like Georgia, Siberia and the Caucasus. Our first meal in Russia was in a local restaurant where no one spoke English and your food was served on a tray. We pointed at stuff and got to taste some cool dishes, including something that looked like ham salad, but was actually squid!  This snapshot is from another little Russian restaurant where I ate borscht soup and tasted some (very strong) Russian vodka. Apparently beetroot borscht is originally from the Ukraine.
St Petersburg Mosque
The
St Petersburg Mosque
is a stunning mosque, located next to the museum of Russian political history near the Peter and Paul Fortress. Entirely covered in beautiful and intricate tiles, the mosque sits on a quiet street by a park. In the blazing summer sun the mosque's colours shimmer and shine. Russia has always had a large minority population of Muslims; this mosque was opened in 1913, making it one of the largest mosques in Europe at the time (besides Turkey). During the Soviet era religious services were banned and it was made into a medical storehouse; it was reinstated as a mosque in 1956.
Sunny streets of St Petersburg
This snapshot was taken on one of many of St Petersburg's wide streets which criss-cross its canals. We stopped for a drink and ended up in a very cool hipster bar, drinking expensive wine. Sitting on the streets of St Petersburg on a summer evening, you see a lot of the world go by. I noticed lots of young children, families and lovers – St Petersburg feels like a romantic city.
Summer Garden
The Summer Garden
is an old Imperial garden from the 18th century. In days gone by the garden would have been filled with Russian nobility passing the day; apparently it was a favourite with officers looking to flirt with young ladies. The remains of the old glory days include a huge aviary that used to be filled with doves and parrots, Greek and Roman marble statues, and cages that were once filled with exotic animals. A peaceful green haven in the city centre, walking through the wide avenues of the Summer Garden feels like time travel.
Drinking (loads of) Russian tea
Russians drink a lot of tea, so in St Petersburg I found myself testing out quite a few of the local brews. The one pictured is a Georgian tea, strong and aromatic and drunk without any milk in the hot midday sun. The beautiful green cast-iron teapot was just one of the many beautiful ways tea is served in Russia.
The Winter Palace
The Winter Palace
is a fantastically opulent building that was once home to the Russian Imperial family and now houses the world-famous
State Hermitage Museum
. This close up of the palace gates shows the massive scale and level of detail in this grand building that represented the awesome power of the Russian Tsars. Not only is the Winter Palace a beautiful place, it's also a site of some of the most extraordinary events in world history. Imagine the energy and frenzy of the 1917 revolutionary guard as they swept through these very same gates and changed Russia forever.
Peter and Paul Fortress
Overlooking the majestic Neva River (St Petersburg's grandest feature)
Peter and Paul Fortress
is a collection of old military and state buildings open to the public. A wonderful place for walking on a hot summer's day, the fortress was originally built to keep the Swedes out in the 18th century. Housing a cathedral, the Russian mint building, and other places of note like the old prison, it's definitely one to visit.