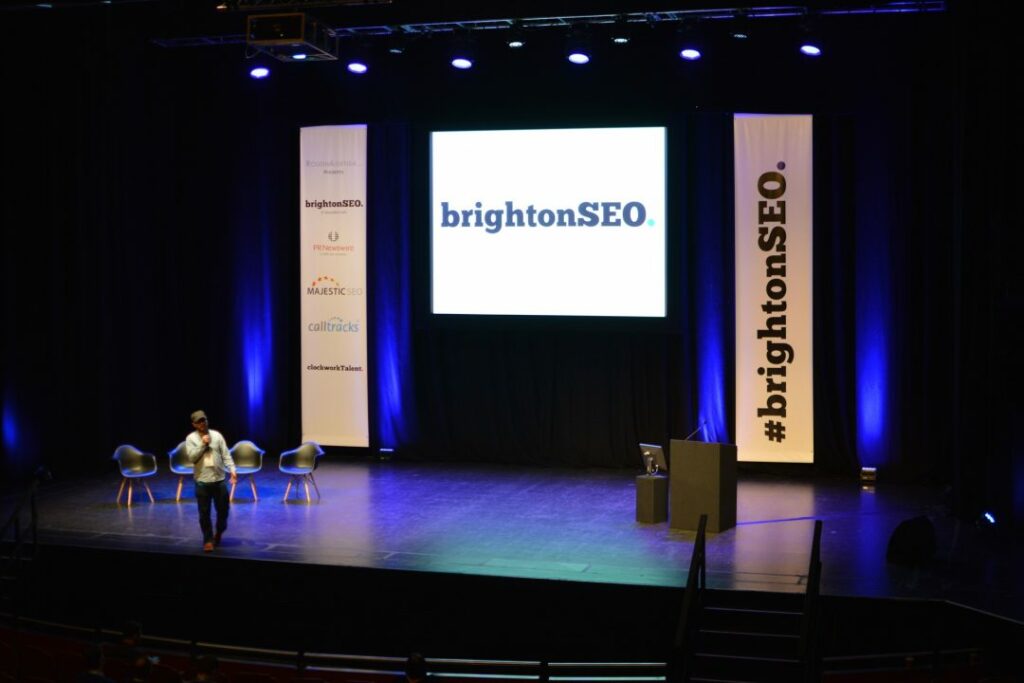 Brighton SEO: the UK's biggest and homegrown SEO event. Such a beautiful event. Here are some of my key content takeaways from the Brighton SEO back in September 2016; I'm looking forward to attending the next one: bring on Brighton SEO 2017!
The problem with 'big' links & content marketing
The first session from
Stacey Macnaught
 who works at
Tecmark
 was an eyeopener! She's been in the business for awhile and had some cool tips and hacks to share.
What struck me the most was Stacey's honesty about the merits of content marketing for links.
Content marketing isn't always a great solution for links; content needs a proper link acquisition strategy if it's being used for SEO purposes. It's also easy to get so caught up in getting a 'big link' that you miss out on loads of contributing links and promotional opportunities. (Despite what you may think, one link from a powerful news domain isn't going to rocket you to the number one spot on Google).
Getting published on big sites doesn't always translate into backlinks and a lift in rankings #SEO
Click To Tweet
Big sites have a lot of inbound and outbound links so their link equity is diluted; you should focus on secondary link building where you link back to the 'big link' to power it up.
Smaller, niche publications that use the same thematic keywords than the ones you're trying to rank for are an awesome place to go to for links.
Be strategic and tactical about where you get your links from. Stacey shared her experiences of getting (easy) links through image attribution, which has worked great for her in the past. Check out her case study here.
Read the rest of Stacey's Brighton SEO presentation here.
Tiered outreach helps you scale
Stacey also made a great point about how tiered outreach can help you scale media placements. Classifying target sites into tiers and changing your approach  accordingly is a great way to help you manage outreach.
Focus targeting and personalisation efforts at the higher end of the spectrum.
Send out less targeted emails to tier 2 & 3 sites.
Everyone loves to be called by their first name: try to always get this info!
Introductions matter & don't ignore local press
Think about how you 'knock' on publications doors when you first contact media sites. Be professional, precise, and clear. Give clear context and ask to see their forward features calendar or get an idea of their current content priorities: it will help you look more legitimate. Stacey also stressed the importance of local press and how they're often beating heart of journalism.
(Click here for her list of UK local news sites).
Freelance journalists can also be a powerful 'in' so cultivate relationships with them (online and offline).
Some big bloggers are also more like citizen journalist: approach them accordingly.
Relationships are key, so start cultivating them early on.
Quantity & quality matter in SEO
You can't succeed with the most expertly crafted outreach email… if it only gets sent to eight people! Stacey underlined the importance of volume when doing outreach (something I can wholeheartedly agree with!). You have to be ready to put yourself out there: you never know what you might find.
In #SEO, both quantity and quality matter when it comes to outreach
Click To Tweet
Where to invest your content marketing budget?
Two pearls of wisdom from Stacey:
Don't stop before you've achieved enough ROI from your outreach campaign (A.K.A keep going).
Spend more time on relationships and outreach, less time on content production.
Spend more time on content outreach, less on production #SEO
Click To Tweet
Verve
had some really good points about content and creativity, showing that sometimes trying to hedge your bets by being 'fancy' and jumping on the latest content format isn't such a good idea. What you should focus on instead is coming up with some awesome ideas people actually want to read about…
People share IDEAS, not content formats #contentmarketing
Click To Tweet
She spoke about how to make sure content is:
relevant (brand fit)
resonant (why people will care)
& different (not derivative).
She encouraged us to think about WHY content is successful, not what.
Invest in R&D
Mike Briggs
's presentation entitled
SEO is Dead
was all about the importance of R&D for SEOs. Some cool facts from his talk:
Video results are now dominating the SERPs . Page 2,3 – full of YouTube!
Top organic results are losing real estate and clickshare – 50% loss of clicks for position one in Google, 30% loss on mobile.
UXO: user experience optimisation – the new thing?
Google Trends shows that the search term "SEO is dead" has stayed at the same level for 5 years.. (hah).
Mobile and tablet users growing daily.
Mike emphasised the importance of R&D and experimentation for SEOs.
Things are changing: here come the machines
Jono Alderson
 spoke about the
Machine Revolution
 and how times are changing. He made some really good points about how data helps brands build trust. Some cool insights from his talk:
Soon the term "digital marketer" will be obsolete: we will all just be marketers.
Brands are using consumer data and rich data to become people's trusted advisors and partners.
Once you build trust and have a relationship with a brand, it's really hard to break.
Life time value model – we need to be making money out of people over a long period of time.
Amazon is a real powerplayer – fulfilment of delivering anything to you in a box within a day (using purchase patterns and consumer data to craft the best UX).
Disruption coming from the third world – ideas and data and systems are transferable marketplaces.
Will the 'digital' be dropped off and we all just become marketers? #digitalmarketing
Click To Tweet
Want more Brighton SEO?
An awesome roundup of all the September 2016 talks.
Come to the next one.
Image credit: 
https://housebuyfast.co.uk/